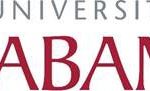 University of Alabama
Job Description
The postdoctoral researcher will collaborate on a federally funded research study in the Psychology Department at The University of Alabama in Tuscaloosa. Directed by Dr. Fran Conners, this is a longitudinal study investigating early cognitive decline over the late teen to early adult years in Down syndrome. The study is in collaboration with colleagues at the University of California, Davis. The postdoctoral researcher will manage the daily activities of the project at the UA site, including training and supervision of student researchers, participant recruitment, and data management. In addition, the postdoc will be part of the assessment team, assist with preparing sIRB and NIH progress reports, and participate in data interpretation and dissemination. For more information, email fconners@ua.edu.
Target hire date: June 1 – August 1, 2023 (flexible)
Minimum Qualifications
• PhD degree in psychology or related field
• Interest in Down syndrome research
• Experience with people with disabilities
• Excellent organizational, interpersonal, and communication skills
• Excellent attention to detail
• Excellent computer skills, including Word and Excel
• Ability to work 40 hours/week with flexible schedule for testing, including weekends
• Valid driver's license and ability to travel to testing sites when needed
• One-year commitment
• Positive references
Preferred Qualifications
• Experience administering standardized assessments for research
• Experience with individuals with Down syndrome
• Excellent scientific writing skills with record of scientific publication
• Multi-year commitment
To apply, please submit a cover letter and CV at the following link: http://careers.ua.edu/cw/en-us/job/518848. Also, please send names/contact information of three references to: Dr. Fran Conners at fconners@ua.edu. Application review will begin March 20, 2023 and continue until filled.